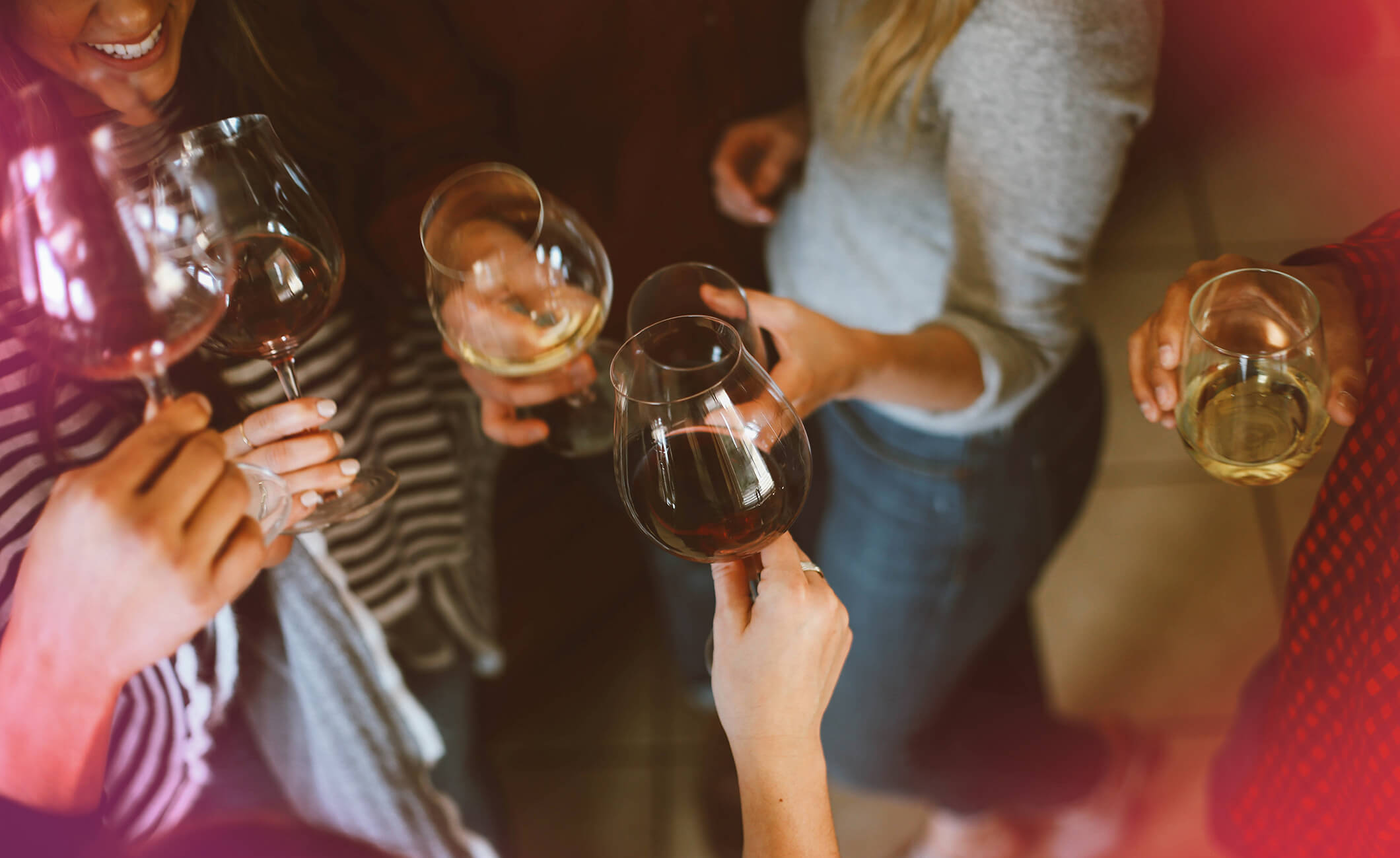 Dinner party conversation starters to get everyone talking
Pour the wine! Your dinner party chat guide starts here (plus, get a juicy offer from Virgin Wines).
Winter is almost upon us, and that can only mean one thing – dinner party season! Think the comfort of home mixed with great friends, hosted by you. And because life's too short for boring wines (and boring conversation), thanks to Virgin Wines, why not combine both? Host your very own soiree and never let the conversation or the drops run dry with our top tips for dinner party conversation.
Talkin 'Bout Glory Days
Bruce Springsteen said it best; the best conversations involve sitting around talking 'bout Glory Days. The same goes for when you're at a dinner party. Dinner parties are all about sharing great stories and good times. Of course, this works best when you're in company of those who were actually present during said glory days, so it's always best to check the audience before you dive into any story that begins with "do you remember that one time we…" So, say cheers to the best of times, and many more to come.
True Crime
Since the dawn of time (or at least, the dawn of podcasts and Making a Murderer), True Crime has surfaced as the ultimate obsession of the masses, and a good whodunnit debate is sure to get tongues talking around the table. Such stories and events have pretty much morphed into folklore, so regardless of where your audience sit on the True Crime scale, from amateur detective to novice, there's sure to be ample fuel for the fire. Pair this conversation starter with Cairncross Barossa Valley Shiraz Durif 2017. Why? Intense and powerful, Durif is known as the 'Grape that takes no prisoners'. Ooooo.
So... Do you think you'd like to be famous?
Sure, this conversation starter seems pretty textbook, but you'll often be surprised at the answers that scatter across the table. Who knew that your introverted pal envisioned their name up in lights? Or that your larger-than-life friend shudders at the thought of fame? Ask this question for a quick injection of revealing chat.
Just the gist
If you haven't listened to Rosie Waterland and Jacob Stanley's podcast Just The Gist, you'll love getting the juicy scoop on fascinating stories. They give you 'just the gist' – just enough detail to sound completely knowledgeable when the topic comes up over the dinner table.
Need more chat fodder? Try Scandal, a new podcast by the team at Shameless, where the hosts revisit celebrity scandals and dig up all the details. Everyone loves a good gossip, right?
Would You Rather?
The best thing about this option is that the conversation usually finds its own twists and turns depending on how your guests answer. Would you rather be able to fly or breathe under water? You can make this game whatever you like. From the after dark special to the family-friendly, your options are practically infinite.
Fine wine
The real key to a great dinner party apart from good conversation and great company? Fine wine. Virgin Wines are all hand-crafted, hand-selected boutique wines, making them the perfect companion no matter what's on the table. And what's more, each Virgin Wine comes with its own unique individual story. Take the Black Pig Shiraz, for example. It's a wine named after the black pigs that call winemaker Steve Grimley's winery home. They roam the paddocks at his vineyard in McLaren Vale. And since he released this wine - a drop that leaps from the glass with beautiful undertones of blackcurrant and vanilla with snippets of ripe berries and chocolate – it's become Virgin Wine's top selling bottle.
Need some extra incentive? Virgin Money customers enjoy exclusive discounts to Virgin Wines. Here's one for starters:
To keep you cosy this winter, Virgin Wines have put together this exclusive offer full of hot favourites. You'll pay just $120 for these rich reds, saving $134 (RRP $254.97), and get 3 free bottles of Gold-medal McLaren Vale Shiraz from Redheads valued at $75.
And if reds aren't your style, grab an all-whites case or a delicious mix of both. It's the perfect time to stock the rack for the long weekend in June. And it's all delivered free, with a 100% money back guarantee.
Now that's something worth throwing a dinner party for.
Virgin Wine Terms & Conditions: Offer available while stocks last and limited to one case per household. $134.97 savings applies to the reds case only worth $254.97. Cannot be used in conjunction with any other Wine People Pty Ltd offer. RRP is as provided by wineries at time of offer. If a wine becomes unavailable, a similar wine of equal or greater value will be supplied. If you are unhappy with the substitute we'll refund you. No sale contract is formed, and your order is not accepted until we dispatch to you the product(s) ordered. You must be 18 years of age or over to order wine from us. Wine will not be delivered to persons under the age of 18 years. We do not deliver to parcel lockers, and unfortunately due to rising delivery costs and current liquor laws are unable to deliver to the Northern Territory. Our full Terms and Conditions of Sale and Privacy Policy apply to this offer and are available here: www.virginwines.com.au/6655001 or call us on 1300 712 870. © 2020 Wine People Pty Ltd. LIQP770016550. Level 2, 407 Elizabeth Street, Surry Hills, NSW 2010. All rights reserved.