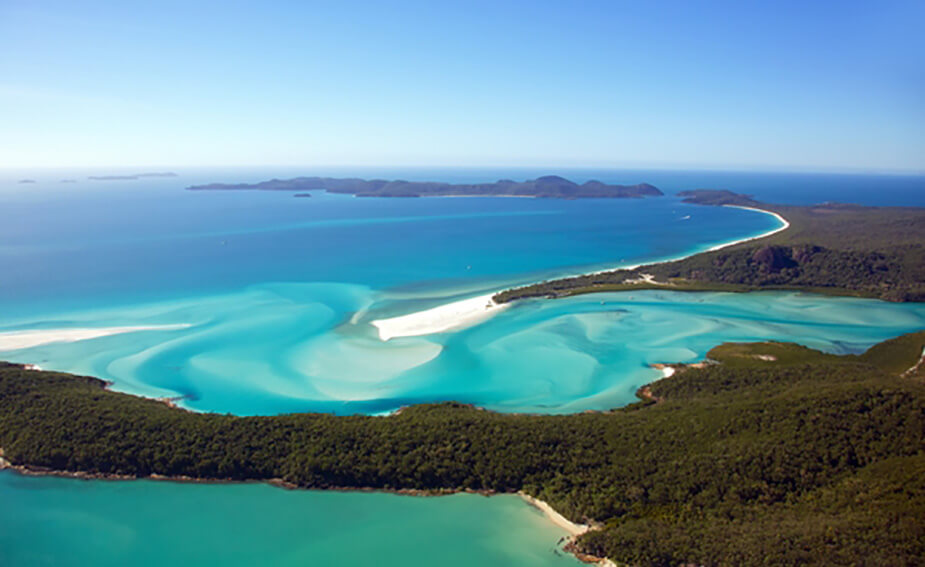 3 Aussie holiday destinations that feel international
Why do we travel?
As anyone who travels internationally will tell you, overseas exploration is all about discovering a new culture, tasting new foods, seeing new landscapes, meeting new people and feeling the new weather.
Could you do all that without passing through immigration?
Contrary to popular belief, Australia isn't actually all rabbit proof fences and endless undulating sand dunes. Indeed, you might find the only overseas experience you can't get in Australia are stamps in your passport.
As the sixth largest country in the world, we can guarantee there's something more for you to explore on those holidays without even leaving our shores. Here are three spots that prove it.
The Whitsunday Islands, Queensland
One glimpse at this white-sanded, blue-watered and green-forested region and you'll be hooked.
Whitehaven Beach is perhaps the most famous of the lot, winning both the honour of number one beach in Australia and number five in the entire world from a recent TripAdvisor Travelers' Choice Awards. This is a 7km stretch of pure perfection, which has made it to the record books as the most photographed beach in the country – head up to Tongue Point on Whitsunday Island for the best view.
In all, there are 74 islands making up this holiday dreamland off the coast of Queensland. Hamilton Island is the largest of them and is a holiday destination in itself with a championship golf course, spa, yacht club, walking tracks, water activities and more. Visit between July and September and you might catch the annual humpback whale migration passing through.
Darwin, Northern Territory
Darwin is closer to the equator than New Caledonia, Fiji, Vanuatu, Samoa – so it's safe to say it's positively tropical.
Catch this city in the dry season from about April until about October for clear days and balmy nights you'd usually only find on a tropical island. Or, if you love a good thunder storm, visit in the wet season to see the daily light show. In 2002, one storm managed to light up the sky with 1,634 flashes in the space of a few hours, according to ABC Science.
When it's not thundering, get into the warm water for a swim, visit the Mindil Beach Sunset Markets in the dry season or make the most of the weather at the deckchair cinema at the waterfront precinct. While everyone around you will sound Australian, the distinct weather patterns will make you feel much further away from home.
Lake Eyre National Park, South Australia
Australia has beaches, Australia has desert – but don't salt plains belong in places like the middle of the USA?
Make your way to the Lake Eyre National Park and you'll feel transported to somewhere much further away than the middle of South Australia. Once upon a time, Kati Thanda (its ancient name) was full of water and much deeper. But these days, the 9,500 square km salt sink is bare red earth, enough salt to season every serving of chips in Australia, and large patches of water. In fact, it has only filled to the brim three times in the last 150 years.
This is definitely a camping destination with a view, and any rainfall brings with it stunning waterbirds such as silver gulls, banded stilts and Australian pelicans. For the best view of the area, book a scenic flight to truly embrace how vast the park really is, or hire a kayak or yacht to explore on the canals and lakes.
Of course, you can still travel overseas and find some great seasonal, scary, and snowy experiences. And when you do Virgin Money's travel insurance might be worth considering.
But sticking closer to home, where's your favourite place to go in Australia – that doesn't feel like Australia?