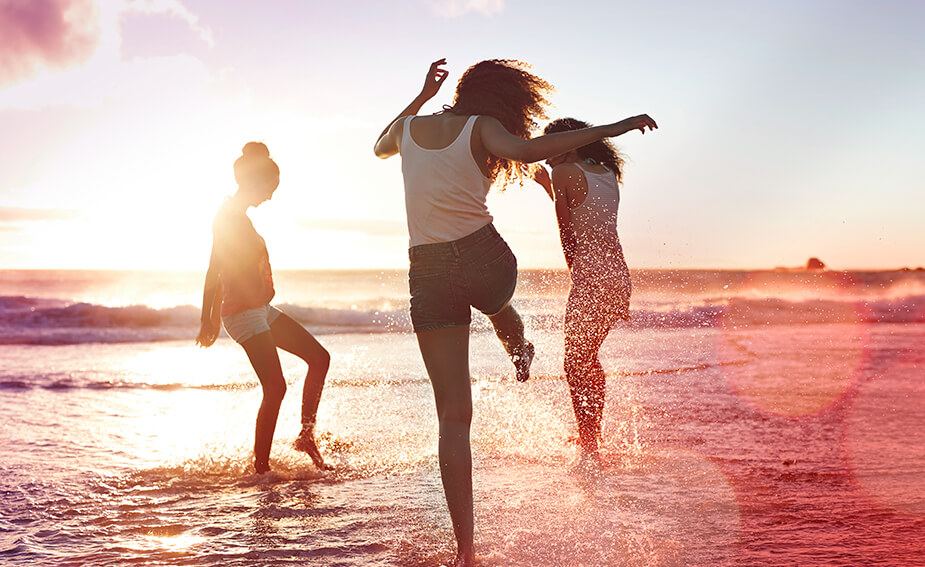 Best destinations for a 10-day holiday
In case you missed the newsflash, if you take the three days between Easter and Anzac Day off, you'll be able to essentially score a 10-day holiday for only three days' leave. Block out your calendar and pack your bags – this opportunity is too good to pass up. But where to go with 10 days to do as you please? You need a destination that maximises time on ground with plenty of activities to keep you entertained for the full stay. Here's a look at some great spots – domestic and international.
Cook Islands
Have you seen the colour of the water here? It's the stuff of no-filter Instagram dreams. The Cook Islands is incredibly beautiful with a chilled vibe to match. It's one of those places that is perfect for a total "switch off" and 10 days here will be enough to reset your motherboard. The beaches beckon and you can see the whole island of Rarotonga in about an hour on a bus that doesn't run on a timetable – just stick out your thumb and jump on!
Western Australia
See the best of our western coast with a 10-day stint that wraps in Perth, Margaret River and Rottnest Island. Enjoy the best of city life with a breezy, laid-back vibe in Perth, hitting up Cottesloe beach and plenty of great restaurants and wine bars. And you'll find more of the same with amazing scenery in Margaret River. Don't miss some of Australia's best vineyards and restaurants as well as incredible natural beauty. But if you thought you'd had your fill of picture-perfect scenery, catch the ferry over to Rottnest Island. The beaches are exceptional and you may spot the island's cutest resident – the quokka. A trip to WA makes for a great way to see our own backyard.
Sri Lanka
Check out the beautiful highlands of Sri Lanka through the open door of one of their iconic blue express trains. Fly direct to Colombo to drive to Dambulla, using the town as a base to check out landmarks like Sigiriya, Pidurangala Rock, Poḷonnaruwa and Dambulla Caves. From there, drive to Kandy and stop off for a few days to hike the Knuckles Mountain Ranges and explore the town. You might want to check out Ella from there or head on to Galle and relax on the coast before flying home.
Hawaii
Get a taste of The States with some serious natural beauty to boot in Hawaii. Sure, you can hit the beach and relax, but the adventurous can tackle some pretty thrilling activities. Zip lining, shark cage diving, hiking up an active volcano or horse riding through scenes reminiscent of Jurassic Park – that's just a taste of what's on offer. If that's your vibe, Hawaii is an awesome destination for 10 days, but you'll definitely want to consider the adventure pack add on to your travel insurance. Side note: don't forget about the amazing shopping (designer outlets alert!).
Northern Territory
If you want a bit of column A, bit of column B when it comes to rest and play, why not get acquainted with the Northern Territory? A 10-day trip will be a nice pocket of time to soak up some rays on the beach in Broome then head to Darwin, where you can chill out or head straight on to immerse yourself in the awe-inspiring scenery of The Kimberley. To experience the sheer beauty of this part of Australia, you might want to tee up a five-day tour. Don't forget your camera!
Should you consider travel insurance for a short break?
Short answer: yes. No matter the length of your break, you'll want to think about travel insurance. The trend for domestic trips seems to be to go without travel insurance, but cover can be trip-saving. Lost luggage and cancellations are still possible, no matter where in the world you are. Plus, with Virgin Travel Insurance, for an additional premium you can customise your package with additional options to add benefits you want. You can be covered for things like rental car hire excess and a range of pre-existing conditions, or you can choose to add adventure or cruise packs to your comprehensive cover. It just makes sense to help make those 10 days run smoothly.
Planning on travelling during those 10 days?
We'll help protect you on your next break with Virgin Travel Insurance Plus, use the promo code SAVE10 to receive a 10% discount*
* The 10% discount applies to the initial premium for new Virgin Travel Insurance policies only (Comprehensive, Essential, Basic and Annual Multi-Trip). Offer valid until 11:59PM AEDT 31 December 2019, is subject to change or removal at the discretion of Virgin Money without notice and can't be used in conjunction with any other Virgin Travel Insurance offer or discount (including the Virgin Money Credit Card discount). Discounts may not be applied to the premium for any optional covers.