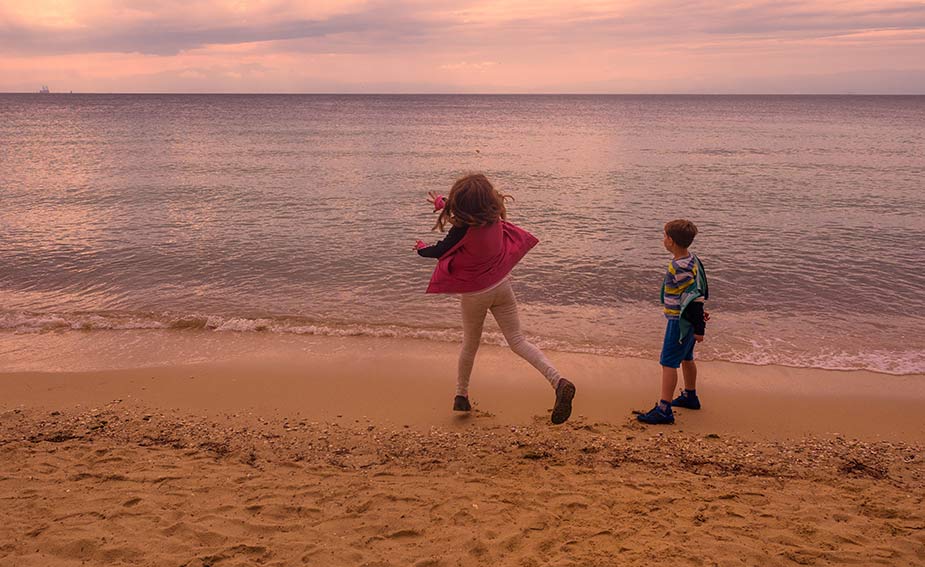 The 101 on our most rewarding credit card
Everything you ever wanted to know about our Virgin Australia Velocity High Flyer Card… we give you the inside scoop on how it works.
Picture the scene… You're lounging on pure, white sandy beaches in an exotic location on a balmy evening. You've spent the day trekking to one of the many fascinating, historic spots you've always dreamed of visiting. Now imagine appreciating how thousands of extra Points helped you get there and made your dream holiday a reality. Fact: if you love to travel, the Virgin Australia Velocity High Flyer Card (our most rewarding credit card) is perfect for making the most out of your everyday spending, so you can get where you want to go sooner — like that private beach in Costa Rica.
Got questions? Here are some of your most asked questions about our incredibly popular Virgin Australia Velocity High Flyer Card, answered.
How many Velocity Points can I earn?
You can earn quite a lot of Points. Ultimately, it will come down to how much you spend on your credit card per month. With the High Flyer Card, in each statement period, you'll earn 1 Velocity Point1 per $1 spent on eligible transactions up to $8,000, and 0.5 Points per $1 thereafter. So, if you spend $8,500 on retail purchases in one month, you'll earn 8,250 Points.
How can I calculate my Points?
Easy peasy! If you're having trouble gauging how many points you could earn with a High Flyer Card, just use our online Velocity Points Calculator. It'll tell you exactly how many Points you'll earn per year (minus bonus Points) depending on your average monthly credit card spend. For example, if you spend $4,500 per month on your credit card, then you'll earn 54,000 Velocity Points per year. Nice.
Are there any other benefits?
So that you really feel like a rock star, we've loaded up the High Flyer Card with tonnes of benefits. You can make use of international travel insurance2, extended warranty insurance2 and exclusive flight benefits like the Virgin Australia $129 Gift Voucher3 and lounge passes4. There are also other security features like Fraudshield5, Purchase Cover2 and Transit Accident Insurance2, as well as Visa Signature Benefits, including the Guaranteed Pricing Scheme2 and our Visa Platinum Concierge Service5.
To make things easier, the High Flyer Card also has Visa payWave6 and Samsung Pay7 to make your purchases more seamless. Finally, you can keep track of everything with your High Flyer Card — your spend, Points and more — on the Virgin Money mobile app. Find out more about all the benefits with the High Flyer Card.
What about rates, fees and limits?
So here are the nuts and bolts of the High Flyer Card:
Annual fee — $289
Additional card fee — $89
Purchase rate — 20.74%
Cash advance rate — 20.99%
Minimum credit limit — $15,000
Minimum income required — $75,000
Interest free days on retail purchases (unless you have a balance transfer) — Up to 44 days
Balance transfer rate at end of offer period — Reverts to cash advance rate. No interest free days apply while you have a balance transfer
Want to know all the fine print? Read up on all the facts and figures of the High Flyer Card and the fees common across all of our credit cards .
Are there any special offers with the Virgin Australia Velocity High Flyer Card?
Yes, of course! Our Velocity High Flyer Card is all about rewarding you as much as possible. For example, right now you can earn up to 100,000 bonus Velocity Points, (earn 25,000 Points for each month you spend $3,000 or more on eligible transactions for the first 3 months from card approval), and 25,000 Velocity Points after your first anniversary8.
Want to be shopping through Europe or cruising the Mediterranean? A credit card with great benefits like these can help you travel sooner and better. Apply for our Virgin Australia Velocity High Flyer Card now.
Important Information
To earn and redeem Velocity Points, you must be a Velocity Frequent Flyer member. Velocity membership and Points earn and redemption are subject to the member Terms and Conditions, as amended from time to time. Velocity Points are earned on Eligible Transactions only. Eligible Transaction means any purchase excluding (but not limited to) Cash Advances, Balance Transfers, Special Promotions, BPAY payments, purchases of foreign currency and travellers cheques, transactions made in operating a business, bank fees and charges such as interest and ATM charges and government related transactions. Government related transactions include transactions with government or semi-government entities, or relating to services provided by or in connection with government (for example but not limited to transactions made at Australia Post, payments to the Australian Taxation Office, council rates, motor registries, tolls, parking stations and meters, fares on public transport, fines and court related costs). See Rewards Program for High Flyer and Flyer Cardholders Terms and Conditions for full details and definition.
Complimentary insurance covers: AWP Australia Pty Ltd ABN 52 097 227 177 AFSL 245631 of 74 High Street, Toowong QLD 4066 (trading as Allianz Global Assistance) under a binder from the insurer, Allianz Australia Insurance Limited ABN 15 000 122 850 AFSL 234708 of 2 Market Street, Sydney NSW 2000 has issued an insurance group policy to Citigroup Pty Limited ABN 88 004 325 080 AFSL and Australian credit licence 238098 (Citi) of 2-26 Park Street, Sydney NSW 2000 which allows eligible Citi account holders and cardholders to claim under it as third party beneficiaries. Any advice on insurance is general advice only and not based on any consideration of your objectives, financial situation or needs. The terms, conditions, limits and exclusions of the group policy are set out in the Complimentary Insurance Terms and Conditions which may be amended from time to time. Extended warranty insurance does not affect the rights of cardholders against a manufacturer in relation to contravention of statutory or implied warranties under Australian legislation. Citi does not guarantee this insurance.
The Virgin Australia Gift Voucher is available to Primary Cardholders only and provides one Virgin Australia Gift Voucher to the value of $129 (AUD) each year. You will become eligible for your $129 Virgin Australia Gift Voucher 30 days after card approval in your first year and 30 days after your card anniversary thereafter provided you have made a retail purchase as the Primary Cardholder in the 2 months prior to requesting your voucher, your account is active and in good order and you are a Velocity Frequent Flyer Member. Gift Voucher is not redeemable for cash and is not reloadable. See Virgin Australia Gift Voucher Benefit Terms & Conditions and Terms of Use for full details.
The complimentary Lounge pass benefit is available to Primary Virgin Australia Velocity High Flyer Cardholders only and provides two Single-Entry Virgin Australia domestic Lounge passes each year. You will become eligible for your two Single-Entry Virgin Australia domestic Lounge passes upon card activation in your first year and then each anniversary thereafter. See Virgin Australia Lounge Pass Benefit Terms & Conditions for full details.
Exclusive Visa Platinum 24/7 concierge service supplied by a third party supplier. Visit visaplatinum.com.au for details.
Purchase limits, fees and charges may apply.
For purchases over $100, an ATM PIN is required for additional security. For more about Samsung Pay click here
High Flyer Card account holders who apply by 2 December 2019. 25,000 bonus Velocity Points will be awarded for every month $3,000 or more is spent on Eligible Transactions for 3 months from card approval. Points will be credited to the Primary Cardholders Velocity Account up to 60 days after the qualifying purchases. Plus an additional once off 25,000 bonus Velocity Points will be awarded within 12 weeks of the first anniversary of the date your card was approved. Points will be forfeited if you close your Credit Card Account before they appear in your Velocity Account. The Account needs to be in good standing for Velocity Points to be awarded. Eligible Transaction means any purchase excluding (but not limited to) Cash Advances, Balance Transfers, Special Promotions, BPAY payments, purchases of foreign currency and travellers cheques, transactions made in operating a business, bank fees and charges such as interest and ATM charges and government related transactions. Government related transactions include transactions with government or semi-government entities, or relating to services provided by or in connection with government (for example but not limited to transactions made at Australia Post, payments to the Australian Taxation Office, council rates, motor registries, tolls, parking stations and meters, fares on public transport, fines and court related costs). See Rewards Program for High Flyer and Flyer Cardholders Terms and Conditions for full details and definition. Please note that if you have a balance transfer, you will be charged interest on any spend you make. To earn and redeem Velocity Points there must be an active Velocity Frequent Flyer Membership linked to the Virgin Australia Velocity High Flyer Card account. Velocity membership and Points earn and redemption are subject to the member Terms and Conditions, as amended from time to time. This offer can't be used in conjunction with other Virgin Australia Velocity High Flyer Point promotions or offers. Offer is not available to existing Virgin Money Credit Card holders (including upgrades).