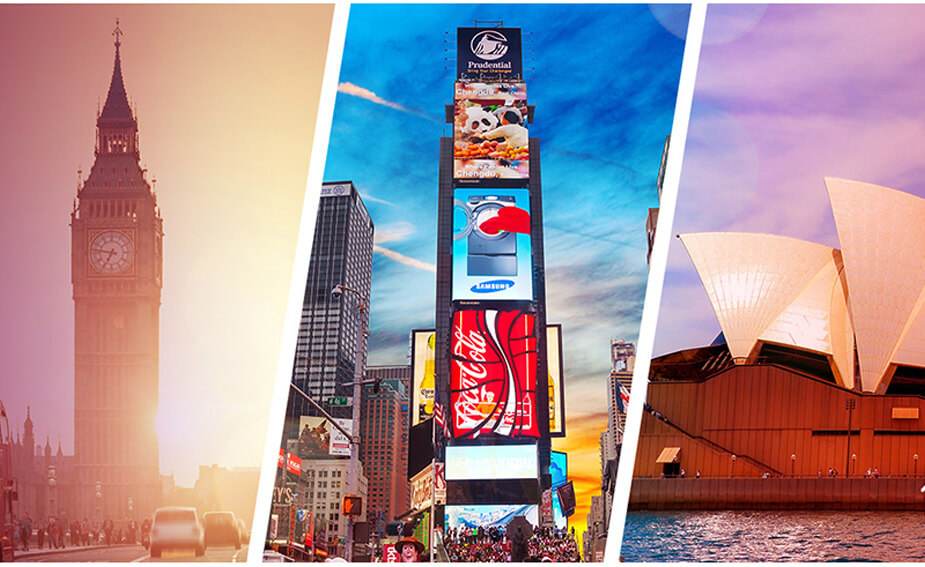 House prices: What does $800,000 buy around the world?
In some of the big global cities, it has become increasingly difficult to buy into the real estate market.
So, what can $800,000 get you in 3 of the world's most sought after cities – London, NYC and Sydney?
London
London; a city home to the Royals, bursting with history and culture, fantastic restaurants, and iconic landmarks like the Big Ben, The London Eye and Westminster Abbey to name a few. Alongside all the perks, the cost of living in London tends to be on the pricey side.
So how far will $800k get you in this city?
In the wake of last year's Brexit vote, housing prices in London have grown at the slowest rate in 3 years, at 0.9%, rising at far below the average 3% seen over the last three years, according to The Independent.
It seems you can get extra value for your cash for the first time in a while. With the average house price at around £480,500 (or AUD $788,625 at 9 February 2017 exchange rates), $800,000 can get you a small, yet very decent apartment in London's most central boroughs among the likes of Westminster, Camden, Islington and Chelsea, if you look at the properties available on Zoopla.
For a one bed, one bathroom apartment in Camden, you're could expect to pay around £400,000. For that second bedroom, prices increase to approximately £500,000 and upwards.
To secure a place in the Stockwell district, one of South London's up and coming areas, housing prices remain about the same, but you'll be able to enjoy a little more space, with two-bedders available around the £400,000 – £500,000 price point.
New York City
New York City or "The Big Apple" is a metropolis overflowing with creativity, culture and, well, people. Iconic skyscrapers are the city's trademark, as it's one of the world's major commercial, financial and cultural centres.
While it's notoriously expensive city to live, $800,000 is still a generous amount to be a part of all the action. To be located in the hustle and bustle of New York's Manhattan, a quick search on Zillow reveals that AUD $800,000 (USD$597,777) can get you a 550 sq. ft studio apartment.
For a little more space New York's, East Village can offer a one bed, one bath and one lounge apartment, and provides the perks of the newest bars, restaurants and cafes. Or for extra value for money, a two bed, two bathroom apartment in Brooklyn is still around the AUD $800,000 mark, and is located away from the busy centre, while still offering an easy commute back into the city over the Brooklyn Bridge.
Sydney
Sydney, with harbour views at almost every turn and beaches sprawled all along the coast; many argue it's one of the best city's in the world to live in (despite the terrible traffic).
So how far will $800,000 get you in the beautiful city of Sydney? Well, of course, it depends on where you want to live. The cost of living in Sydney continues to rise, with news.com.au reporting that the median house price in Sydney increased by 15 percent in 2016.
In the Eastern Suburbs hotspot of Bondi, a browse through property website Domain reveals that $800,000 can typically get you a nice one bed, one bath apartment within walking distance to the beautiful Bondi Beach and the main shopping strip.
Suburbs in Sydney's inner west, such as Newtown, Marrickville, Petersham, are still increasing in their popularity in the real estate market, with their (generally) lower housing prices, close proximity to the CBD and growing abundance of arts and culture. In Marrickville, you'll get more bang for your buck with, getting you a two bedroom, 2 bath apartment or small terrace house.
The lower North Shore, in suburbs such as North Sydney, Chatswood, Cremorne, you'll be able to secure a modern, one bed one bathroom for less than 800k. On the other hand, houses within this price range are almost impossible to find.
In search of affordable areas in Sydney, Domain published a list of Sydney's 50 cheapest suburbs almost 12 months ago, and while it's slightly dated in this rapidly changing market, it could still prove to be a good starting point.
The Rest of the World
So what about the rest of the world? $800k can get you a touch further than the costly cities of London, New York, and Sydney.
In Tokyo, Japan, with ¥ 68,000,000 (roughly $800,000) will net you a modern apartment in one of the cities high-rise buildings, complete with two beds, one bath and access to a gym sauna and pool, according to realestate.co.jp.
In Moscow, Russia, 30-35,000,000 RUB (just under $800,000) can buy a modern, 3 bedroom apartment with a concierge and sweeping views of it's central Arbat location, according to some of the listings on Intermark Savills.
And in Barcelona, Spain, Right Move suggests you could find apartments up to four bedrooms and two bathrooms nearby Barcelona's main strip, La Rambla, for €550,000 ($768,037).
If you're getting on the property ladder in Australia, or looking to refinance, consider the Virgin Money Reward Me Home Loan.