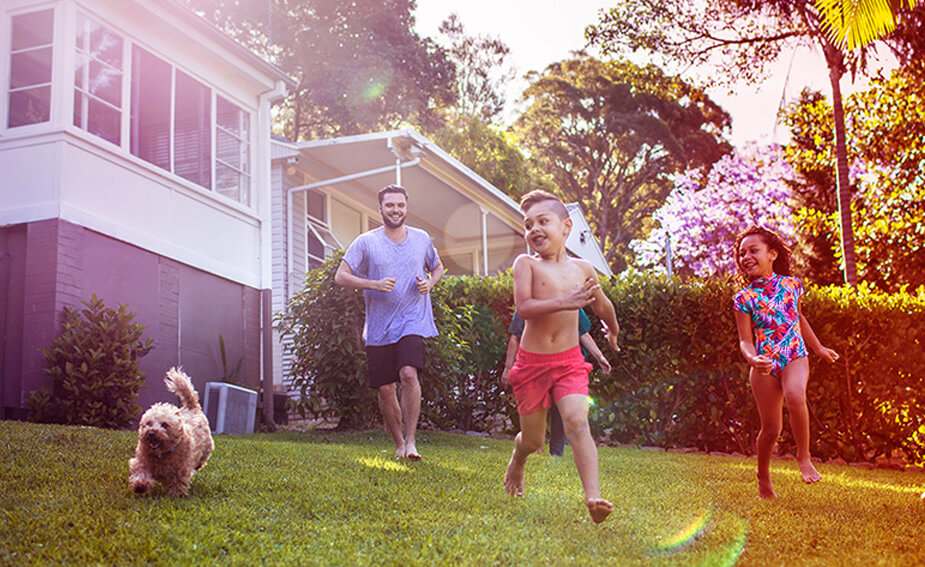 Top 5 Family Friendly Suburbs per State
Starting a family can be one of the most fulfilling experiences life has to offer, but it also be the most stressful.
From work, extended family, budget and lifestyle changes, to the little bundle(s) of joy themselves, there's another thing you need to consider – where you'll raise your family!
In 2014, both The Switzer Daily and realestate.com.au cited research conducted by RP Data, who looked at a range of common factors including size, number of bedrooms, proximity to amenities and socio-economic well-being among a number of other variables, to determine the most family-friendly suburbs across Australia.
To set appropriate expectations, we've updated the median house price data from realestate.com.au* to compile the top five from each state, as well as what to look out for at each location.
Sydney
Forestville was Sydney's leading family-friendly suburb, coming in at 25 overall for top metropolitan suburbs nationwide. Several suburbs in the Blue Mountains area made up most of the remaining top 20 suburbs in Sydney, due to housing affordability and overall block size.
Forestville – median house/unit price $1,653,550/$960,000
North Rocks – $1,271,000/$866,750
Beecroft – $1,765,000/$1,018,000
Castle Hill – $1,540,000/$882,000
Blaxland – $716,000/$585,000
Melbourne
Victoria has been considered the most welcoming state to up and coming families, with 31 of the top 100 suburbs all found within the greater-Melbourne area. While most are found quite close to metropolitan areas, the urban boundary as far as the fringes of the Yarra Valley have also been deemed ideal locations to set up.
Taylors Lakes – median house/unit price $662,000/$382,000
Diamond Creek – $711,000/$594,700
Cockatoo – $480,000/Not Applicable
Ringwood North – $917,500/$655,000
Greenvale – $595,000/$411,900
Brisbane
The Morteon Bay council region in Brisbane is the place for young families to start their search in QLD, with the area hosting the largest number of suburbs in Brisbane's top 20. Brisbane was also among the nation's most financially accessible areas, with half of the top 20 also recording a median house price of under $500,000.
Morayfield – median house price $346,050/$295,000
The Gap – $660,000/$452,500
Kenmore – $660,000/$512,500
Albany Creek – $582,500/$401,500
Eatons Hill – $624,000/Not Applicable
Adelaide
Adelaide was deemed to be the most affordable mainland capital city, with Aberfoyle Park taking the top spot locally, and all but one of their top 20 suburbs featured a median house price of under $600,000.
Aberfoyle Park – median house/unit price $413,750/$261,000
Belair – $650,000/Not Applicable
Banksia Park – $400,800/Not Applicable
Flagstaff Hill – $475,000/Not Applicable
Highbury – $479,250/Not Applicable
Perth
Western Australia presented more of a cross-section of family-friendly suburbs due to the sheer size and socioeconomic variety across the state. While several suburbs out of town are still accessible due to the excellent highway system, proximity to good public schooling will play one of the biggest factors here.
Byford – median house/unit price $399,000/Not Applicable
Floreat – $1,240,000/$695,000
Forrestfield – $395,000/$2,950,000
Wanneroo – $425,00/Not Applicable
Thornlie – $400,000/Not Applicable
Hobart
While often the victim of unnecessary slack from the mainland, Kingston, Tasmania actually takes the crown for the most family-friendly suburb nationwide. The metropolitan area features a median price of $407,500, average land area of 828 square metres, and 3.3 average bedrooms.
Kingston – median house/unit price $407,500/$322,000
Lauderdale – $400,000/Not Applicable
Lenah Valley – $470,000/$317,000
Sandy Bay – $847,500/$490,000
Claremont – $1,300,000/$634,000
Darwin
Another difficult state to summarise based on the diversity of accommodation and location, however, the Northern Territory features one of Australia's most affordable family-friendly suburbs – $477,500 – with a median house price of under $282,500.
Bellamack – median house/unit price $606,250/Not Applicable
Howard Springs – $639,000/Not Applicable
Jingili – $477,500/Not Applicable
Leanyer – $560,000/$395,00
Humpty Doo – $580,000/Not Applicable
Canberra
The ACT didn't perform as strongly as other states when it comes to family factors, with not one of Canberra's best suburbs cracking the top 100. However, if commitments limit moving interstate, the best of the nation's capital can be found below:
Deakin – median house/unit price $1,140,000/$800,000
Kaleen – $647,000/$399,500
Curtin – $851,000/$308,000
Evatt – $545,000/$395,000
Kambah – $535,000/$425,000
No matter where you decide to nest, it's important to remember what you're looking after. If you're looking to buy or refinance, check out the Virgin Money's Reward Me Home Loan to find out if it's right for you.
*Socio-Economic viability taken from 2014 report by RP Data, median house/unit prices from realestate.com.au as of July 2017.