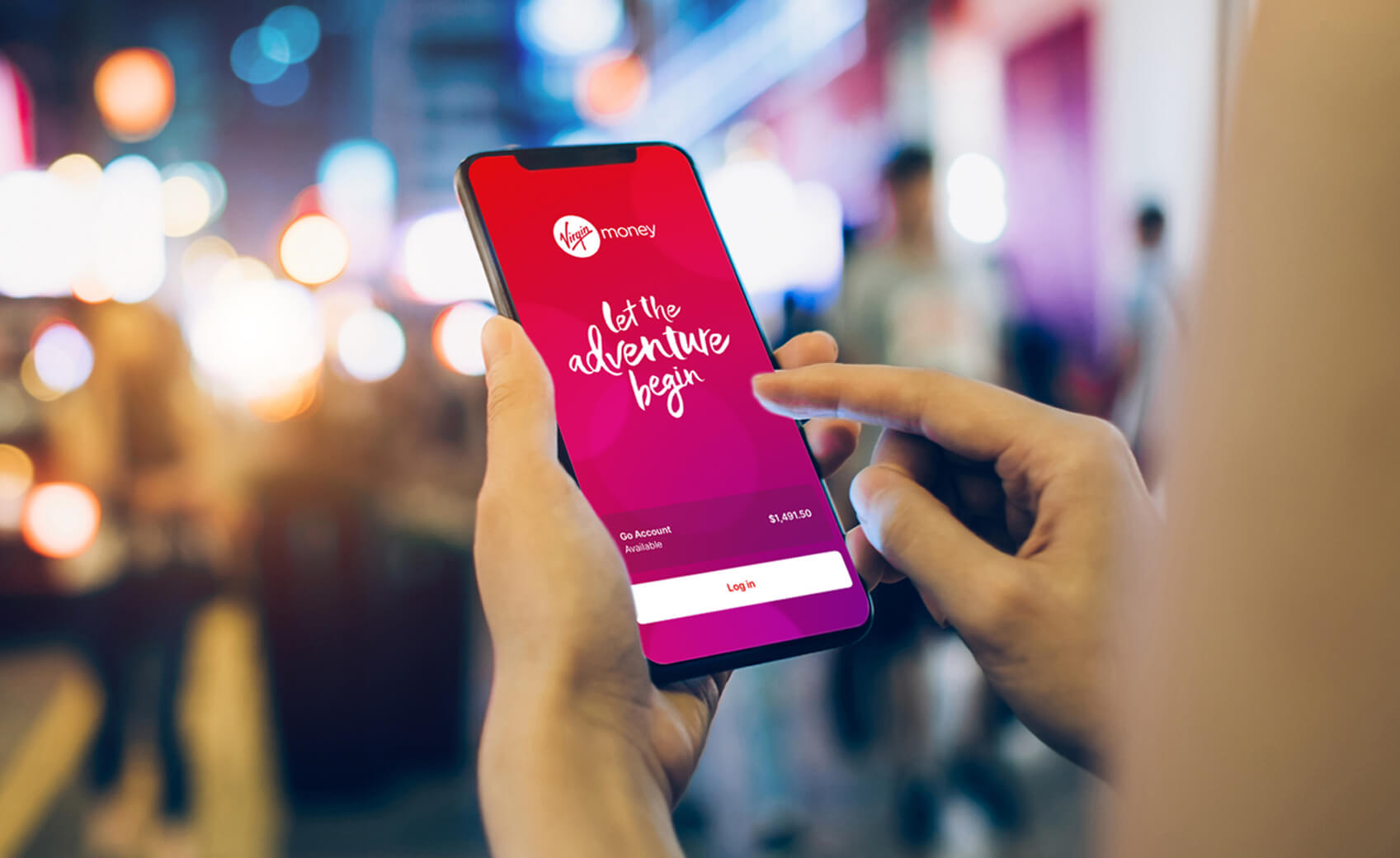 Virgin Money Australia shakes up the market with new digital bank and loyalty program
Virgin Money Australia has lifted the lid on its hotly anticipated digital bank, which will set the new standard for Australian banking-customer relationships. A new loyalty program, Virgin Money Rewards, launched in conjunction with the digital bank, which aims to become the most personalised and seriously rewarding program in the market.
Explore our new digital bank and open an account in minutes
Virgin Group Founder, Sir Richard Branson, said: "Virgin Money Australia has an ambition to challenge the status quo in the financial services industry. The new Virgin Money Australia digital bank is the antithesis of a traditional bank: it embraces simplicity and rejects the notion of financial complexity. At the core of the Virgin DNA is a challenger spirit, which brings competition to every industry we enter. I am so proud of the Virgin Money Australia team for living and breathing our DNA when designing and building the new digital bank, and keeping the customer at the heart of their decision making."
The new digital bank builds on the strong momentum of the Virgin Money business, which now includes a home loan portfolio that has grown to in excess of $3.8 billion.

Virgin Money Digital Bank
Virgin Money's digital bank has been designed off extensive customer research, with a clear ambition to simplify banking, reward customers and help them achieve their financial goals. Built on one of the world's best banking software , Temenos, the cloud-based core banking platform provides a frictionless and fully integrated digital experience, bringing together credit cards, transaction and savings accounts, plus a loyalty program in a single, native mobile app.
Virgin Money Australia CEO Greg Boyle said: "Banking is an everyday necessity, but often it's just too hard. Consumers want it to be simpler, they want to be supported for doing the right thing while being genuinely recognised and valued for their loyalty.
"The personal finance management tools we have implemented are designed to help our customers improve their financial fitness, and they'll be rewarded for that. When features such as spend tracking and goal setting are utilised, we expect customers to reduce their credit card debt, and increase their savings .
"Our research told us that rewards are important to customers, especially when it comes to earning points on everyday purchases, so we're offering eight points per transaction for our customers which is the best offer of its kind in market. Overwhelmingly, customers told us they don't feel loved by their bank, so we've designed a banking experience with the customer at its heart, allowing Australians to bank like never before," Mr Boyle said.
Three new products are now available which will sit alongside Virgin Money's credit cards within the app, representing a significantly enhanced customer experience for these cardholders.
Virgin Money Go Transaction: Virgin Money's first ever transaction account with no monthly fees, offering a market-leading eight (8) points per transaction on everyday purchases, direct debits and BPAY payments, where the monthly criteria is met.
Virgin Money Boost Saver: A high interest rate savings account that comes bundled with a Virgin Money Go transaction account and a competitive bonus interest rate of up to 1.2% per annum where the monthly criteria is met.
Virgin Money Grow Saver: A standalone savings account, with a bonus interest rate up to 0.65% interest rate per annum on balances where the monthly criteria is met.
The new transaction and savings accounts will be issued in partnership with global payments technology company Visa, while home loans and a broader deposit offering will be added over time. A new account can be created in minutes and customers can start saving or spending immediately from the palm of their hand with Apple, Google and Samsung Pay. All new eligible customers who open a Virgin Money Go account before 30 June 2021 will be rewarded with 5,000 bonus points .
Virgin Money Rewards
The Virgin Money Rewards program sits at the centre of the digital bank experience and seeks to reward and recognise customers in a multitude of ways, from everyday transactions to improving their financial fitness.
Powered by industry-leading loyalty technology partner, Ascenda, who partnered with Visa, the program brings to market a range of innovative propositions, including personalised bank and partner offer recommendations, the option to use points to erase recent purchases from a customer's Go account or for cashback direct to their Go or savings account. Customers can also use their points to purchase instant online gift vouchers from hundreds of leading retailers.
The program has launched with around 100 earn and redemption partners, including Menulog, THE ICONIC and HelloFresh, as well as a suite of Virgin family partners like Virgin Wines and Virgin Active. Virgin Money will be working closely with partners over the coming months to create new and relevant offers for its customers.
Virgin Money Australia Head of Loyalty, Richard Davey, said: "Rewarding customers for their loyalty has become quite diluted across the industry, so our mission was to build a program that is genuine. It's not just about transactions or one-off offers, but about recognising customers continuously for the entire duration of their banking relationship. Unlike other programs, customers will be recognised when they spend and when they save, and they'll be supported with hints, tips and real time alerts to help achieve their financial goals.
"Customers might notice some extra points or rewards when they make better money decisions or for simply having a birthday or reaching an anniversary. Our new next-generation rewards program gives us the flexibility to bring to life many unique propositions and to continue evolving the loyalty program for years to come," Mr Davey said.
Virgin Money Digital Bank Features
Biometric login
Digital account creation via the app in a few minutes
Three new banking products issued in partnership with Visa: Virgin Money Go Transaction Account, Virgin Money Boost Saver, Virgin Money Grow Saver
Virgin Money credit card integration
Immediate access to Apple Pay, Google Pay and Samsung Pay
Personal Finance Management: Spend tracking and categorisation, Budget assistance, Bill Management, Financial Goal Setting and Management
Virgin Money Rewards Features
Earn 8 Virgin Money points per transaction on everyday purchases, direct debit and BPAY
Hundreds of earn and burn partners
Purchase Eraser with Virgin Money points
Burn points for cash back into Go or savings accounts
Merchant discounts
Card linked offers
In-app hotel bookings
The Virgin Money digital bank is now available to download in the App Store and Google Play.
For more info, click here.