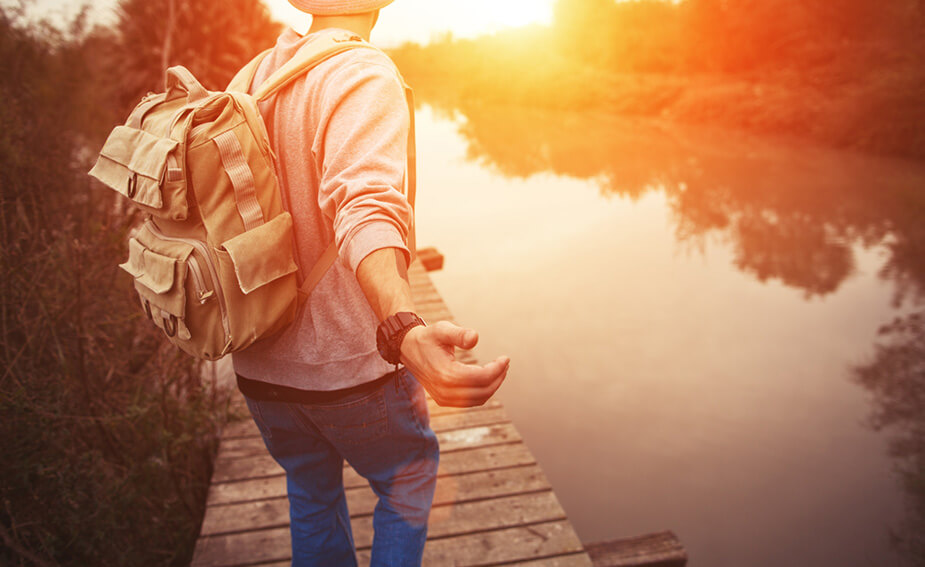 Are you affected by the travel bug?
There is a certain type of condition going around, and it has been growing and growing in Australia for years, according to the Department of Energy, Resources and Tourism.
Yes, that's right. Outbound tourism is up as the travel bug sweeps the nation.
If you notice someone with itchy feet, post-holiday blues, distant and misty eyes at the mention of travel, or the (somewhat annoying) need to endlessly repeat three foreign phrases they acquired on their last holiday, chances are they have one of the following strands.
Common travel bugs
Overseasis travellovirus
Those affected by overseasis travellovirus (or O. travellovirus for short) are often found outside of their home country. It can be contracted from spectacular sights such as the Taj Mahal, Grand Canyon or Chichen Itza, then quickly spread it to other like-minded or envious peers upon their return.
Indeed, the Australian Bureau of Statistics states that the year ending June 2014 saw around 9 million Aussies leaving our shores, many of whom already had or would contract this insidious bug.
How to treat
Sadly, the only way to treat any travellovirus is to send the person on their way. For O. travellovirus in particular, encourage the patient to write down a list of places they've always wanted to visit overseas, and help them plan their trip. If you are family, it might be worth going along as well, to keep an eye on their health. It would be worth also be worth considering taking out travel insurance, such as Virgin Travel Insurance, if going overseas, in case any unforeseen circumstances arise.
Domestis travellovirus
Domestis travellovirus (D. travellovirus) is a similar condition, but sees the afflicted shifting about within Australia, rather than leaving its borders.
Unfortunately, with a country as large and beautiful as ours, it can be easy to catch this bug, especially when viewing pictures of swimming with whale sharks in WA, or diving in the Great Barrier Reef in QLD. Austrade states that there were a total of 82.3 million domestic trips taken in the year ending March 2015, which is up 6% on last year.
How to treat
Same as O. travellovirus, but contained within Australia. How can anyone object to a quarantine this beautiful?
Backpackeris travellovirus
The last known travel bug condition, B. travellovirus, can be contracted by Australian's who spend large amounts of time abroad, are open-minded and ready for adventure. Alarmingly, it also sneaks into the country by infected people from elsewhere in the world who bring the stories of freedom, adventure and finding oneself.
Identifiable by their oversized sacks dragging perched over their shoulders, messy clothes and dreadlocked hair, an Austrade report indicates that 582,000 of all inbound visitors to our shores in 2014 had it, easily spreading it to Australians through nights out at our popular bars, clubs and by living in rustic campervans close to major tourist attractions.
How to treat
Investigate couch surfing and hostel websites in other locations to see if they will take your patient. Make sure those affected also read this budgeting article, as it could help them cut costs while overseas – an absolute necessity for B. travellovirus carriers.
Are you prepared to treat the travel bug.