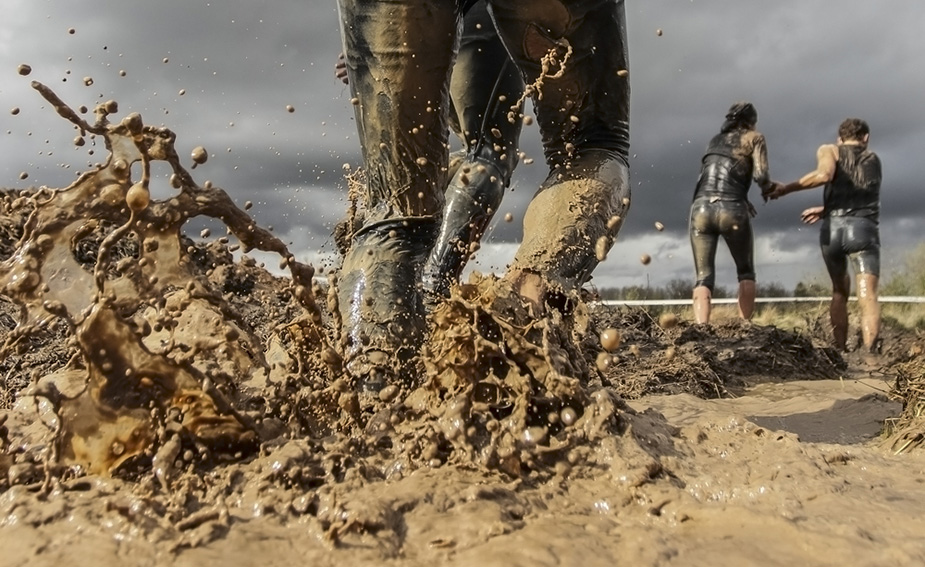 Are you tough enough for the World's Toughest Mudder?
There's a growing legion of "Mudders" – orange headbanded renegades who rejoice in thick mud, electric shocks, runny mud, ice, lumpy mud, fire, bottomless pits of mud, jumping from heights, cold mud, smelly mud, and feats of physical endurance unlike anything else on the planet.
They are Tough Mudders, and if you thought their regular 16 – 20km obstacle course wasn't hard enough, perhaps the World's Toughest Mudder (WTM) is for you.
To be held in Las Vegas on November 14, the WTM is the culmination of more than 55 events held around the world this year, where Mudders will complete the course as many times as they can handle within 24 hours. The regular version is billed as being 'probably the toughest event on the planet' – this round-the-clock race almost certainly is.
One tough mudder
In 2014, 27-year-old Canadian and winner Ryan Atkins backed up his 2013 victory by racing 19 laps of the 5 mile circuit – that's almost 100 miles! His outlook on the event sums up the atmosphere of these brutal obstacle courses. Ryan notably repeatedly stopped at the top of one of the toughest obstacles (Everest, an almost vertical incline you must run up) to help other competitors, and when asked about it in a post-race interview from the 2013 event, Ryan said "I was always extremely thankful when someone gave me a helping hand, and I wanted to return the favour whenever possible."
World's Toughest Mudder 2015
The next edition of the World's Toughest Mudder (WTM) will include brand new, never before seen 2016 Tough Mudder obstacles. Not only that, there are obstacles that are exclusive to the WTM events, so you won't see them anywhere else in the world. Ever.
The exact course isn't revealed until the day, but race organisers tend to favour strength-testing jungle gym bars, jumps from high places into muddy water, wading through thick mud pits, jumping over fire, climbing steep walls, swimming through ice, crawling under barbed wire, dodging through electrically charged wires and more. Only those who have successfully completed Tough Mudder courses or similar endurance events are suggested to enter.
Also for the first time, WTM will feature a Team Relay. Join with your mates and the 4-person entourage will compete as a team, with the only requirements being completing the first and last together. It's not a bad way to share the load, either, as only 50% of the team need to be active on the course in between those laps.
Spectators get in for free, pit crews pay $40 a head to be there and if you volunteer to help out at the event, you'll get a discount when you compete next year! Organisers have made it clear that the race will go ahead come rain or shine, and would probably even prefer it if mud fell from the skies.
Will Ryan be back to win his third title and take home the $10,000 prize?
Will you be there to knock him off his perch?
The entry fee for Tough Mudder will give you some medical insurance cover for the event, but if you're planning on heading over and want peace of mind for other aspects of your holiday, find out about the specific options and cover available through Virgin Travel insurance.