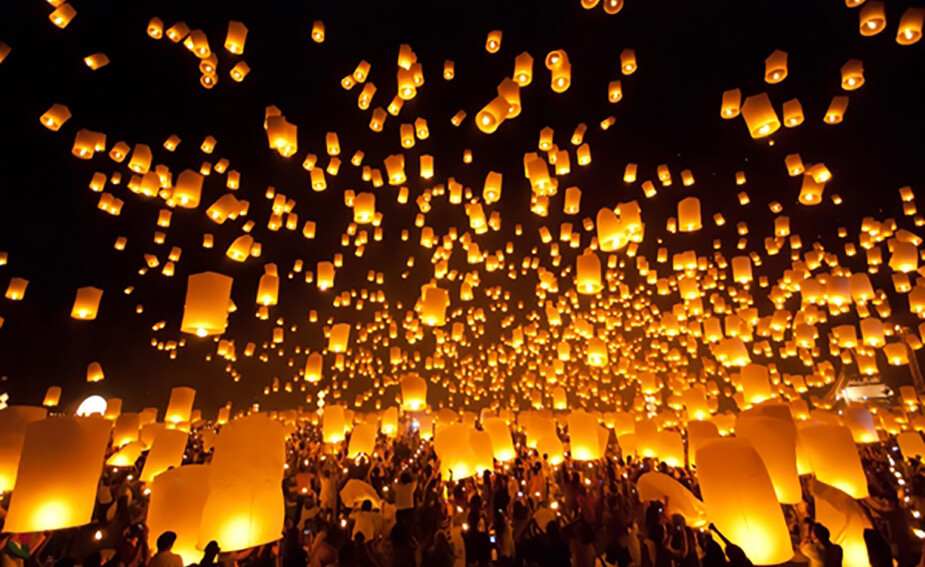 Light up your life in Thailand at Loi Krathong Festival of Lights
Mr. Thawatchai Arunyik, governor of Tourism Authority of Thailand (TAT), cordially invites you to celebrate Loi Krathong, one of Thailand's most visually impressive celebrations this November.
"Loi Krathong has been celebrated in Thailand for hundreds of years, and each year boasts everlasting memories for anyone who has come to experience the moments of floating the krathong ;as a symbol of warding off the unpleasant past and welcoming good luck," he said, in a 13 October, 2014 press release from the TAT.
What is Loi Krathong?
Come the 12th lunar month of November, this annual festival celebrates the full moon on November 25 with lanterns, candle lighting, boat racing, music, beauty contests and more. Loi – sometimes spelled loy – is the Thai word for float, and krathong are little rafts or baskets. Once you've made your loi krathong (or bought one, for the less crafty of us), you will typically decorate it with a candle, incense and lotus flowers, place it on the nearest stretch of water and let it carry away your bad luck, leaving you ready for a fresh start.
Nobody is all too sure how it began, but many believe it is an ancient Brahmanic or Indic festival. These days, it is a way to honour the Buddha for many, while others use it to honour Mae Kongkha (Mother of Waters). Whatever the reason, this festival is said to be one of the most charming in Thailand for its visual smorgasbord of lights and colour.
Where is Loi Krathong?
All of Thailand enjoys several days of celebrations, with a particular focus on Bangkok, Sukhothai, Chiang Mai, Tak, Ayutthaya, Samut Songkram and Ratchaburi.
Chiang Mai, however, is notable as one of the leading venues, where the festival is known as Yi Peng. Kicking off on November 24 and running until November 26, the northern city hosts Loi Krathong activities and events at the Chiang Mai Municipal Office, Tha Pae Gate and some of the city's temples. The most popular are the lantern procession from Tha Pae Gate to Pantip Plaza and candle lighting ceremony on the 25th, the boat races on the Ping River and the Buddhist chanting ceremony.
You'll find street side vendors selling everything from lanterns and fireworks to cocktails and gunpowder, so be sure to be wary of your surroundings so getting into the spirit doesn't leave you needing to call on your travel insurance. Speaking of which, check out the travel insurance options available through Virgin Money to determine if they'll be suitable for your travel needs.
Where do you want to celebrate Loi Krathong?