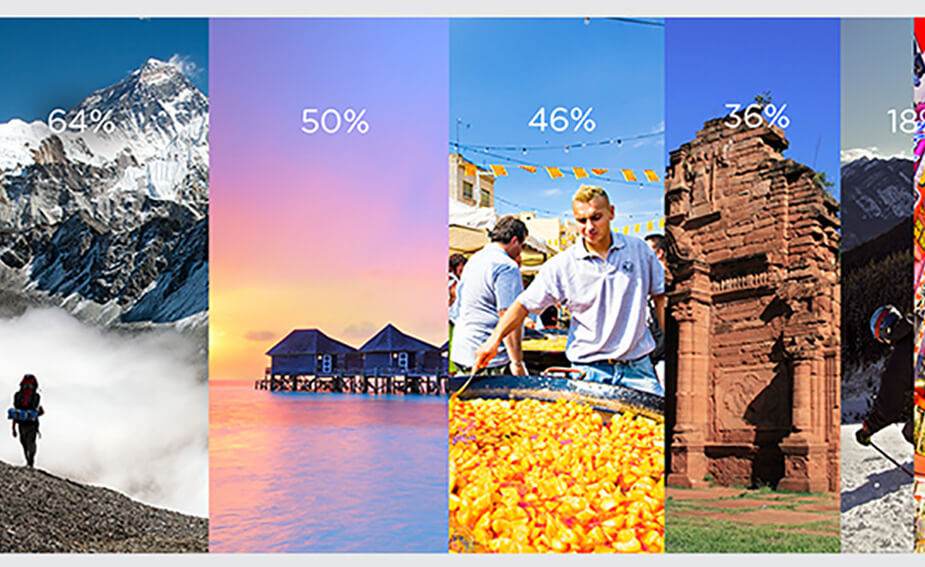 Top 6 adventure spots around the world
Since many of you in the Virgin family have an adventurous spirit, we've outlined 6 of the world's best adventure travel destinations.
1. Kruger National Park, South Africa
Experiencing an African safari in Kruger National Park is something truly special. With nearly 2 million hectares, Kruger National Park is South Africa's largest game reserve and is unmatched in diversity, quantity of African wildlife and the beautiful vastness of its landscapes. There are many ways to explore the park including guided walks, 4×4 tours and mountain biking which means you can tailor this trip around your wants. If you're after an adventurous trek, romantic getaway or a family holiday, Kruger will not disappoint.
2. Jungles of Borneo
Exploring the jungles of Borneo is definitely something you should experience at least once in your lifetime. The rainforests of Borneo are more than 140 million years old and span over 743,330 square kilometres. This is a holiday for the avid adventurer. You'll be treated to some of the amazing flora and fauna as you venture through this tropical wonderland and if you're really lucky, you may spot the largest flower in the world, the Rafflesia. The jungle is steeped with history and mystery too, with evidence of an ancient hobbit-like species that populated the forest and some claim still do.
Continued below
3. Adventure Sailing, Bermuda to Maine
Is there a better feeling than clipping through the waves with the sun on your face? Begin your journey with lovely pink sand beaches and end in Portland with Maine's famous Red Lobster. 750 nautical miles in 9 days, this is a trip you'll remember forever. Spend the days eating, snorkeling and learning the basics of sailing, whilst enjoying the unspoilt starlit sky at night with a freshly caught dinner. This trip guarantees a unique experience where you will be fully immersed in nature and exposed to the elements. Whether you're an experienced sailor wanting to add some miles or a beginner looking for an exciting trip, this voyage has something for everyone.
4. Queenstown, New Zealand
If blood-pumping adrenaline sports is your thing, look no further than Queenstown. Located on the shore of New Zealand South Island's Lake Wakatipu and set against the dramatic Southern Alps, Queenstown always puts on a good show for #nofilter Instagram landscapes or holiday selfies. The surrounding Central Otago region is known for its Pinot Noir and Chardonnay vineyards, and for adventure sports. In Winter, there's back-country skiing and the country's highest vertical drops. During the warmer months, try paragliding, mountain biking and bungee-jumping (Kawarau Gorge Suspension Bridge is among the sport's original sites).
5. Mount Everest, Nepal and Tibet
Are you ready for a challenge? Everest is the ultimate goal for most mountaineers worldwide being the largest mountain in the world. Today hard-core trekkers seek the challenge of reaching the mountaineer's Base Camp, a task that only a few people in the world have ever done. Flying in to Lukla, explore the mountains and valleys around the towering peak, rest in Nepalese teahouses, learn about the traditions and cultures of the famous Sherpa and spend time in exotic Kathmandu. Take this opportunity to also learn about the history of the mountain from the perilous journeys of the first expeditions to the modern day hikes.
6. Banff, Canada
Banff is a must if you're ever in Canada. Situated in the heart of the Canadian Rocky Mountains, Banff offers spectacular sights, wildlife, arts and culture and a small town charm. One of the most protected places on Earth, Banff needs to be seen to be believed. For over 125 years, Banff National Park has provided visitors with a healthy combination of unspoiled wilderness, modern amenities and opportunities for active exploration. With such breathtaking landscape, it's no surprise that this UNESCO World Heritage Site has been nominated time and again as a "must-see" destination for travelers around the world. Need we say more? The seats are cozy and there's a spot waiting for you by the fire.
If you're the active type, consider the Adventure Pack with Virgin Travel Insurance. From deep sea fishing, high altitude hiking to abseiling, it's got just about every intrepid taste covered.
The Adventure Pack provides cover for a range of adventure sports and activities that aren't automatically covered under our standard plans. Be sure to read what's covered in the PDS, including destinations and activities. So before your next big trip, take a short trip to Virgin Travel Insurance and protect your adventures today.
Important stuff
See Product Disclosure Statement for terms, conditions, excesses, limits and exclusions that apply. This information is of a general nature only and does not take into account your personal financial situation, needs or objectives. Please consider the Product Disclosure Statement and Financial Services Guide before deciding whether to buy this product.
Virgin Travel Insurance promoted by Virgin Money (Australia) Pty Limited ABN 75 103 478 897, authorised representative No 280884 of Virgin Money Financial Services Pty Ltd ABN 51 113 285 395 AFSL 286869. AGA Assistance Australia Pty Ltd ABN 52 097 227 177, AFSL 245631 trading as Allianz Global Assistance issues and manages Virgin Travel Insurance on behalf of the insurer, Allianz Australia Insurance Limited (Allianz) ABN 15 000 122 850 AFSL 234708.