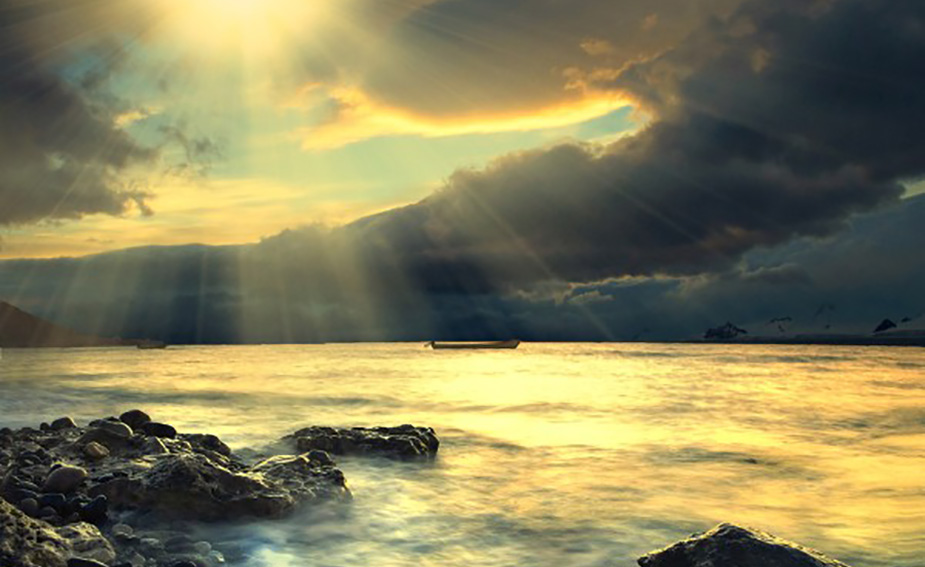 Wanderlust: 10 inspiring travel quotes that will set you on your way
Dorothy once said "there's no place like home" – but isn't that exactly the point?
The minute you leave, you're setting your sights further afield than your mailbox, the city limits, or even the national border. You're headed on a travel adventure that will take you to places unlike anything you could possibly see at home.
But what inspires you to explore the world? Is it a song or a movie? A book maybe? How about a memorable quote?
Scrawled on bathroom stalls, tattooed across limbs and committed to memory, these pearls of wisdom keep the travel bug alive and kicking.
So if you're ready to pack up your pigtails, sparkly red shoes and plucky little terrier, check out 10 of our favourite travel quotes…
1. "I travel not to go anywhere, but to go. I travel for travel's sake. The great affair is to move." – Robert Louis Stevenson, wise words from 1878 in his novel Travels with a Donkey in the Cevennes.
2. "Travel is fatal to prejudice, bigotry, and narrow-mindedness." From the ever-quotable Mark Twain in The Innocents Abroad/Roughing it.
3. "The world is a book and those who do not travel read only one page" – Saint Augustine, unknown date or origin, but stands testament to his genius regardless of some point in his life between 354 and 430.
4. "All travel has its advantages. If the passenger visits better countries, he may learn to improve his own. And if fortune carries him to worse, he may learn to enjoy it." – Samuel Johnson, English writer and all-round wise guy, this quote is from his work Journey to the Western Islands of Scotland.
5. "To my mind, the greatest reward and luxury of travel is to be able to experience everyday things as if for the first time, to be in a position in which almost nothing is so familiar it is taken for granted." – Bill Bryson, in his introduction to a collection of travel works, The Best American Travel Writing 2000.
6. "A journey is best measured in friends, rather than miles." – An unpublished quote from Tim Cahill, US author most known for his work Road Fever.
7. "Once you have traveled, the voyage never ends, but is played out over and over again in the quietest chambers. The mind can never break off from the journey." – Pat Conroy, New York Times best selling author and one-time school teacher.
8. "Like all great travelers, I have seen more than I remember, and remember more than I have seen." – Benjamin Disraeli, two-time British Prime Minister.
9. "Every dreamer knows that it is entirely possible to be homesick for a place you've never been to, perhaps more homesick than for familiar ground." – Judith Thurman, New York native and one of the more contemporary writers on this list.
10. "It is good to have an end to journey toward, but it is the journey that matters in the end." – Ernest Hemingway, a man who simply needs no introduction.
Do you have a favourite travel quote that's not listed here? We'd love to hear it.
Sources
http://www.brainyquote.com/quotes/quotes/r/robertloui108133.html
http://www.pinterest.com/fodorstravel/travel-quotes/
http://matadornetwork.com/bnt/50-most-inspiring-travel-quotes-of-all-time/
http://www.goodreads.com/quotes/tag/travel
http://www.funnewzealandtravel.com/life/101-best-travel-quotes-to-inspire-and-motivate-ourselves-part-2
http://www.brainyquote.com/quotes/topics/topic_travel.html
http://www.goodreads.com/book/show/307844.The_Innocents_Abroad_Roughing_It
http://justus.anglican.org/resources/bio/50.html
http://www.samueljohnson.com/travel.html
http://infolab.stanford.edu/~widom/travelquote.html
http://www.goodreads.com/author/show/6942.Pat_Conroy
http://www.bbc.co.uk/history/historic_figures/disraeli_benjamin.shtml
http://www.kwls.org/authors/judith-thurman-2/