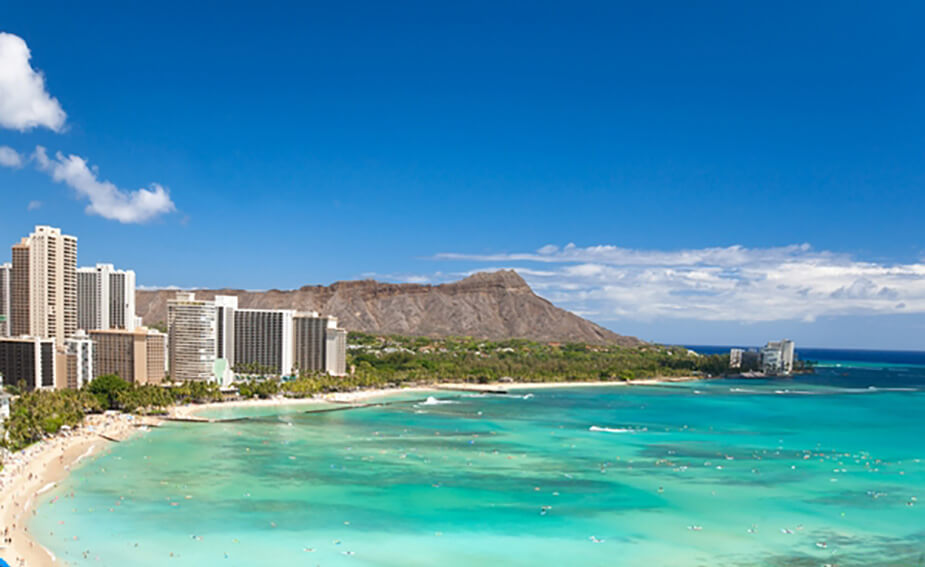 What to do on Oahu
Aloha!
That's what you'll say when you visit the sun soaked US state of Hawaii. It's the typical greeting of the Hawaiian people, and you'll no doubt hear it a lot during your much-deserved holiday here.
After you've packed your most flamboyant Hawaiian shirts, ensured your passports are all in order and double checked whether Virgin Travel Insurance is right for you, it's time to hit the skies and make way for Oahu, Hawaii.
Here are some suggestions for your to-do list while visiting this spectacular location.
Polynesian Cultural Centre
The Polynesian Cultural Centre is perhaps the world's largest, most diverse and most exciting cultural tourist attraction based on the many different Polynesian peoples. There are loads of informative tours and shows available on this 17-hectare area, as well as plenty of hands-on activities.
During the day you can see and take part in cultural traditions of New Zealand's Maori people, as well the cultures of Fiji, Tonga, Tahiti, Samoa, the Marquesas Islands and Hawaii itself. These activities include canoe racing, Tahitian spear throwing and fire making. A variety of buffets, luau (a Hawaiian word for dinner entertainment) and evening shows are also available.
Pearl Harbour
No trip to the state's capital, Honolulu, is complete without remembering its past. Though the Date of Infamy (Dec 8, 1941 – the day after Japan attacked the US) has long since passed, you can still see many memories and living relics of this tumultuous time in the historic area of Pearl Harbour.
These aren't just limited to statues and museums, but also fascinating real battleships that were used during the war, and now lay idle in the bay for you to visit!
For example, you could purchase a general admission ticket to the Battleship Missouri memorial, the ship where Japanese officials surrendered to the US in 1945. With this entry you can join a 35-minute guided tour, take an audio tour with more than 100 stops or simply walk about under your own power, exploring where you see fit.
There is also the Pearl Harbour Visitor Centre to see, as well as the USS Arizona Memorial, USS Bowfin Submarine and plenty more.
Photography tour
What are two things that embody great holidays more than anything? Sightseeing and take-home memories.
During your Oahu escapade, consider combining the two by jumping on a sightseeing photography tour with a business such as Oahu Photography Tours.
Oahu Photography Tours was founded in 2010 by expert Hawaii photographer Alex Wilson. Wilson offers a raft of great tour options, taking you to some of the most ridiculously beautiful spots on Oahu.
For example, you could be jumping on a sunset or sunrise tour to catch the best of the Pacific sun's gentle orange glow. Alternatively, aquatic animal lovers could instead book a Whale Watching Tour, complete with cliffside photographic opportunities as well as a 360-degree view boating trip.
Diamond Head State Monument
Oahu isn't just for the culturally inclined and photo-friendly, but also for those with an eye for hiking (or rather, the boots for it).
Diamond Head is perhaps the most instantly recognisable feature on the entire island, sitting at around 192-hectares in size and created around 300,000 years ago. This state park is a massive crater which was likely formed during a single, unparalleled explosive eruption. It can be found (rather easily – it's quite large) in the eastern portion of Waikiki.
There is a brilliant walking trail leading up the 170-metre ascent, winding its way through a fascinating military history. Across the 1.2 kilometre track you'll pass through a 76-metre-long tunnel, as well as come upon the old Fire Control Station – built in 1911 to direct artillery fire. The summit also has its share of concrete bunkers, and possibly views of passing humpback whales in Winter.
Shopping in Honolulu
If you hear the words 'shop 'til you drop' and immediately start running towards the source, you'll love Honolulu.
Waikiki in particular is known for its great malls and retail outlets. One of America's largest open-aired malls – Ala Moana Centre – can be found here, alongside numerous high-end shopping streets. The Royal Hawaiian Centre is here also, which contains over 100 different shops and restaurants spread over a near-29,000 square-metre area on Kalakaua Avenue.
What would you do first on Oahu?