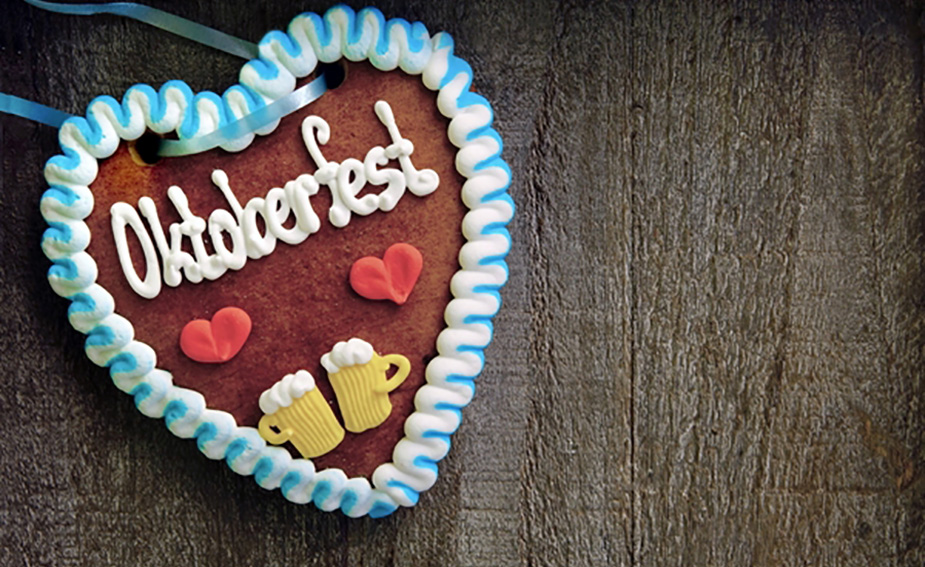 Why Oktober is the best month of the year
Congratulations, you made it.
Through dreary afternoons, you coped. Through rain and wind, you yanked at a broken umbrella. Through days of uncertainty, you troubled over the right number of layers to wear.
And your reward?
Oktoberfest!
A 16-day celebration of Bavarian culture and festivities. Forget Christmas. Forget the Easter Bunny. Oktober is the best month of the year and here's why:
The traditional Oktoberfest
Raise your glass and say "prost", because Oktoberfest is probably the biggest celebration of fine beer on the planet, kicking off in Munich on Saturday September 19.
In 2014, roughly 6.3 million guests took to Munich, Germany to enjoy the occasion. Over the 16 days, they collectively consumed 112 oxen, 48 calves and an impressive 6.4 million litres of beer.
One of the most impressive sights of the festival is seeing the waitstaff carry a dozen full steins (1 litre of beer – the standard drink at Oktoberfest) in one go.
But wait, who holds the World Record for carrying the most steins for 40 metres? An Australian. Well, technically, a German-born Aussie who managed a whopping 20 of them, but an Aussie nonetheless.
The tradition of Oktoberfest
It all started back in 1810 as a horse race as part of the wedding celebrations for Bavarian King Ludwig I and his wife Theresie. The popularity of the event was such that it became an annual outing (the horse racing, not the wedding), and has since grown into the festival rides and beer drinking extravaganza that it is today.
Traditional dress is a big part of the event, with men and women donning the lederhosen and dirndls. If you want to look the part, try to find a bargain online and off-season, as you'll pay a premium if you purchase one in Munich during the event.
The best of the wurst
You have to sample the traditional German and Bavarian treats while you're in town. There are countless food stalls around the festival, and you can order food within the beer tents as well.
The giant pretzels are much more like salty bread rolls than the small hard ones of Australia, and go down a treat with a Stein. Another must try – especially for a break from the beer – is a Bavarian special of a mix of Coke and Fanta – just ask for a Spezi.
Don't leave the event without your very own cookie heart – a staple of Oktoberfest – usually decorated with a variety of phrases in tasty-looking but better-left-uneaten icing.
With all this drinking, you'll need to make sure you get a bite to eat or two as well. Follow your nose to a stall selling fresh Bratwurst sausages – a staple pork delicacy. Most chefs here have their own unique recipe, so grab more than one to compare.
The sound of Munich
As Oktoberfest is held in central Munich and is totally free to enter, you can wander in and out as you please. The neo-gothic town hall in Marienplatz is a must with its world-famous Glockenspiel and cityscape views, and is a great starting place to explore the rest of this compact city as well.
In 2013, the Red Cross aided 7,551 guests with various ailments so it helps to plan for the unexpected. If you're thinking about Munich, you may want to think about travel insurance as well. Review the options available through Virgin Travel Insurance to see if they meet your needs.
The non-traditional Oktoberfest
If you need any more reasons to love Oktober and its fest, remember you don't necessarily need to be in Munich to do it.
Sydney more than gets into the spirit with a bevvy (get it?) of celebratory spots around the city, while more than 500,000 reportedly celebrate in America's largest event in Cincinnati, according to Georgia's South University.
Dublin is not one to miss out on the joy of a beer festival, and is another hot spot (or should it be 'hop spot') for annual Oktoberfest celebrations.
Get into the swing of the celebrations and tell us your favourite thing about Oktober.