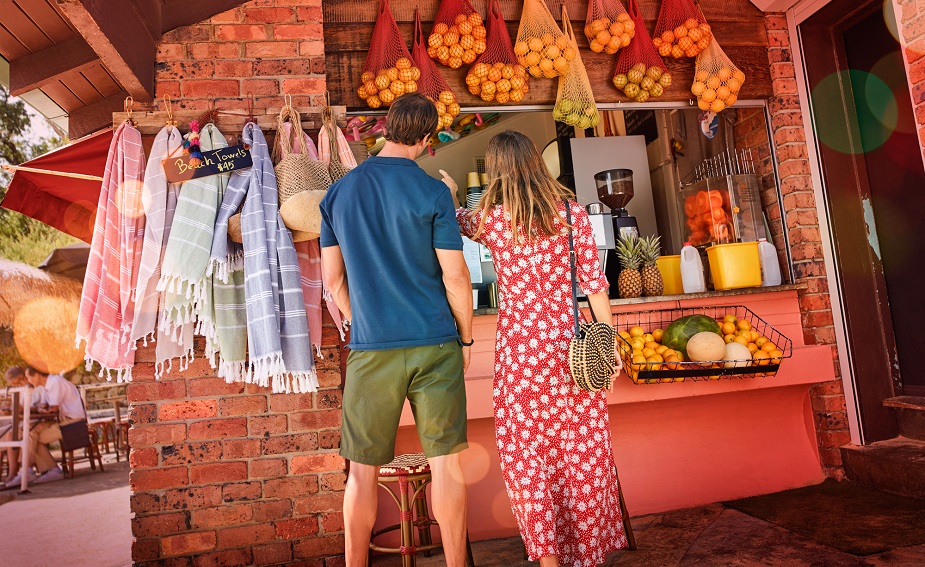 The A-Z of the Virgin Australia Velocity Flyer Card
You're looking for a love like no other, right? One that forces you to push your boundaries, spoils you endlessly and takes you to faraway places. So, have you met our Virgin Australia Velocity Flyer Card?
While applying for a credit card isn't the most romantic of activities, finding one that works for you at your current stage in life could have you in a very different financial position this time next year – not to mention a vastly different physical location (you might be enjoying an island adventure, perhaps off the coast of India). Let's break down the Flyer Card so you know exactly what's on the table.
The basics
If you're looking for a card with a lower credit limit but just as many perks, you'll be thrilled with the Virgin Australia Velocity Flyer card. To be eligible for this card you need to have a minimum income of $35,000. You can also enjoy a low annual fee of $129 per year, plus a purchase rate of 20.74% and cash advance rate of 20.99%1.
The Points
Who knew spending on this bad boy could actually bring you closer to that canoeing trip in Bali? You could be spending big at your local taco joint or on a new pair of high tops and could be earning big with the Velocity Frequent Flyer Program2.
With the Flyer card, you'll earn 0.66 Points per $1 for the first $1,500 you spend in your statement period, and 0.5 Points per $1 thereafter3. Spending $2,000 on a new couch, for example, would have you earn 1,240 Velocity Points which is just over an eighth of the 7,800 points you need for a flight on a Velocity Economy Reward Seat4 from Sydney to Brisbane (plus the relevant taxes, fees & carrier charges).
With your flight within reach, you can now prep for your 'Iconic Big Things' coastal tour, which will, naturally, start with The Big Prawn. Plus, there are a number of offers which include upfront bonus Points like the 75,000 Points offer5 with the Velocity Flyer Card.
The perks
What's more is, eligible Flyer cardholders can enjoy the gift of travel with an exclusive $129 Virgin Australia Gift Voucher every year6, which means this time next year your biggest worry could be which Insta filter to use on your holidays shots.
All you need to do is simply make a retail purchase in the two months prior to requesting a voucher - bonsoir cheaper travel!
The zingers
Remember when you bumped into your neighbour at the gym and she gave you that judgmental 'You pay for your gym membership?' look? Well, with your credit card perks she'll be long forgotten. When you sign up with this card, you're eligible to receive four weeks' free membership on a 12-month Virgin Active plan.
Plus, those gym junkies visiting Virgin Active three times or more every week within the first 12 weeks, will receive 10,000 Velocity Frequent Flyer Points7– there's never been a better time to kick that (somewhat overdue) new year's resolution into gear.
Get in quick…
Currently, there are multiple promotional offers available with the Virgin Australia Velocity Flyer Card, no matter the type of spender you are:
The ongoing annual fee offer means a reduced ongoing annual fee of $508, you'll earn 3 additional bonus Velocity Points per $1 on your everyday spend12 in the first 3 months (capped at 10,000 Points per month), plus 0% p.a. for 18 months on balance transfers9 (reverts to cash advance rate). No interest free days apply while you have a balance transfer.
The bonus points offer includes 25,000 bonus Points for every month $1,500 or more is spent within the first three months of approval, up to a total of 75,000 Points5. This offer also includes half annual fee in the first year (usually $129), plus 0% p.a. on balance transfers for 18 months10 (reverts to cash rate). No interest free days apply while you have a balance transfer.
And finally the purchase & balance transfer offer means you'll pay 0% p.a. on purchases for up to 14 months from approval10, plus, 0% p.a. on balance transfers for six months11 (reverts to cash rate). No interest free days apply while you have a balance transfer.
Keep in mind; these offers are only available until the 31st of August 2019. So, it's important to do your research and take advantage offers when they come around so that you can make the most of your Velocity Points!
Keen for more information on what the Virgin Australia Velocity Flyer Card offers you?
Things you need to know

1. All interest rates shown are variable. This information is correct at 29 April 2019. You must be at least 18 years of age to apply for a credit card. If you are a permanent resident you must earn at least $35,000 p.a. for the Virgin Australia Velocity Flyer Card. Approval is subject to our credit criteria.

2. To earn and redeem Velocity Points, you must be a Velocity Frequent Flyer member. Velocity membership and Points earn and redemption are subject to the member Terms and Conditions, as amended from time to time. Velocity Points are earned on Eligible Transactions only. Eligible Transaction means any purchase excluding (but not limited to) Cash Advances, Balance Transfers, Special Promotions, BPAY payments, purchases of foreign currency and travellers cheques, transactions made in operating a business, bank fees and charges such as interest and ATM charges and government related transactions. Government related transactions include transactions with government or semi-government entities, or relating to services provided by or in connection with government (for example but not limited to transactions made at Australia Post, payments to the Australian Taxation Office, council rates, motor registries, tolls, parking stations and meters, fares on public transport, fines and court related costs). See Rewards Program for High Flyer and Flyer Cardholders Terms and Conditions for full details and definition.


3. Standard Velocity Point earn rate on the Virgin Australia Velocity Flyer Card is 0.66 Points per dollar spent on Eligible Transactions on your first $1,500 spend per statement period, then 0.5 Points per dollar spent on Eligible Transactions per statement period thereafter. To earn and redeem Velocity Points, you must be a Velocity Frequent Flyer member. Velocity membership and Points earn and redemption are subject to the Member Terms and Conditions, as amended from time to time. Velocity Points are earned on Eligible Transactions only. Eligible Transaction means any purchase excluding (but not limited to) Cash Advances, Balance Transfers, Special Promotions, BPAY payments, purchases of foreign currency and travellers cheques, transactions made in operating a business, bank fees and charges such as interest and ATM charges and government related transactions. Government related transactions include transactions with government or semi-government entities or relating to services provided by or in connection with government (for example but not limited to transactions made at Australia Post, payments to the Australian Taxation Office, council rates, motor registries, tolls, parking stations and meters, fares on public transport, fines and court related costs). See Rewards Program for High Flyer and Flyer Cardholders Terms and Conditions for full details and definition.


4. The quoted redemption fares are correct as at 19 March 2019 and are subject to change. Fares are subject to availability, and seats are limited and may not be available at peak times or on all flights. Price is based on a one way or return economy Reward Seat fare or business Reward seat fare as specified, and must be booked on the Velocity website. Taxes, fees and carrier charges are payable in addition to Velocity Points redeemed and are not eligible for Points earn. A Virgin Australia Carrier Charge is payable per sector, per person, view more information here. Price may vary until ticketed. All payments made by debit/credit card are subject to a payment surcharge. Add $40 or 5,200 Points per person for bookings made on the phone. A checked baggage allowance is included in your fare, view Reward Seat Baggage Allowances for details. Name changes are not permitted. Other changes, refunds and cancellation are permitted prior to travel and may incur a fee and any applicable fare difference. You may also be entitled to a refund under the Australian Consumer Law in certain circumstances. View the Velocity Rewards Seat fare rules for more information. Some flights may be operated by a partner airline. Different baggage allowances and conditions may apply to these flights. Full terms and conditions at velocityfrequentflyer.com.

5. 75,000 bonus Velocity Points offer is available to new approved Virgin Australia Velocity Flyer Card ("VAVFC") account holders who apply by 31 August 2019. 25,000 bonus Velocity Points will be awarded for every month $1,500 or more is spent on Eligible Transactions for 3 months from card approval. Eligible Transaction means any purchase excluding (but not limited to) Cash Advances, Balance Transfers, Special Promotions, BPAY payments, purchases of foreign currency and travellers cheques, transactions made in operating a business, bank fees and charges such as interest and ATM charges and government related transactions. Government related transactions include transactions with government or semi-government entities or relating to services provided by or in connection with government (for example but not limited to transactions made at Australia Post, payments to the Australian Taxation Office, council rates, motor registries, tolls, parking stations and meters, fares on public transport, fines and court related costs). See Rewards Program for High Flyer and Flyer Cardholders Terms and Conditions for full details and definition. Please note that if you have a balance transfer, you will be charged interest on any spend you make. Points will be credited to the Primary Cardholders Velocity Account up to 60 days after the qualifying purchases. To earn and redeem Velocity Points, there must be an active Velocity Frequent Flyer Membership linked to the VAVFC account. Velocity membership and Points earn and redemption are subject to the Member Terms and Conditions, as amended from time to time. This offer can't be used in conjunction with other VAVFC promotions or offers. Offer is not available to existing Virgin Money Credit Card holders (including upgrades).


6. The Virgin Australia Gift Voucher is available to Primary Cardholders only and provides one Virgin Australia Gift Voucher to the value of $129 (AUD) each year. You will become eligible for your $129 Virgin Australia Gift Voucher 30 days after card approval in your first year and 30 days after your card anniversary thereafter provided you have made a retail purchase as the Primary Cardholder in the 2 months prior to requesting your voucher, your account is active and in good order and you are a Velocity Frequent Flyer Member. Gift Voucher is not redeemable for cash and is not reloadable. See Virgin Australia Gift Voucher Benefit Terms & Conditions and Terms of Use for full details.


7. 10,000 Points (12 week offer) is limited to 10,000 Points per Member. Visit www.virginactive.com.au/legalstuff for full terms and conditions. Velocity Earn Conditions and Velocity membership T&Cs apply. Visit www.velocity/frequentflyer.com/content/TermsConditions/


8. Ongoing $50 Annual Fee offer is available for new approved Virgin Australia Velocity Flyer Card account holders who apply by 31 August 2019. This offer is subject to change at the discretion of Virgin Money, is non transferrable and can't be used in conjunction with other Virgin Australia Velocity Flyer Card promotions or offers. Offer is not available to existing Virgin Credit Card holders (including upgrades).


9. 20,000 bonus Velocity Points offer is available to new approved Virgin Australia Velocity Flyer Card ("VAVFC") account holders who apply by 31 August 2019. 20,000 bonus Velocity Points will be awarded after $3,000 or more is spent on Eligible Transactions within the first 3 months from card approval. Eligible Transaction means any purchase excluding (but not limited to) Cash Advances, Balance Transfers, Special Promotions, BPAY payments, purchases of foreign currency and travellers cheques, transactions made in operating a business, bank fees and charges such as interest and ATM charges and government related transactions. Government related transactions include transactions with government or semi-government entities, or relating to services provided by or in connection with government (for example but not limited to transactions made at Australia Post, payments to the Australian Taxation Office, council rates, motor registries, tolls, parking stations and meters, fares on public transport, fines and court related costs). See Rewards Program for High Flyer and Flyer Cardholders Terms and Conditions for full details and definition. Please note that if you have a balance transfer, you will be charged interest on any spend you make. Points will be credited to the Primary Cardholders Velocity Account up to 60 days after the qualifying purchases. To earn and redeem Velocity Points, there must be an active Velocity Frequent Flyer Membership linked to the VAVFC account. Velocity membership and Points earn and redemption are subject to the Member Terms and Conditions, as amended from time to time. This offer can't be used in conjunction with other VAVFC promotions or offers. Offer is not available to existing Virgin Money Credit Card holders (including upgrades).


10. Your total balance transfers may not exceed 80% of your credit limit. The balance transfer interest rate applies to balances transferred with this offer for the period shown, from the date the balance transfer is processed. At the end of the balance transfer period, the interest rate on any outstanding transferred balance will revert to the interest rate for cash advances, currently 20.99% p.a. on the Virgin Australia Velocity Flyer Card, Virgin Australia Velocity High Flyer Card and Virgin Money No Annual Fee Card, and 21.69% p.a. for the Virgin Money Low Rate Card. Interest rates are variable and subject to change. The interest rates are current as at 29 April 2019. This offer is valid until 31 August 2019. Please note that unless advertised otherwise, you are not entitled to any interest free days whilst you have a balance transfer. This means that all spend will be charged interest at the applicable ongoing purchase rate. Velocity Points are not issued on balance transfers. View more information about balance transfers.


11. 0% p.a. on purchases for new Virgin Australia Velocity Flyer Credit Card customers only for the period shown above from the date your account is approved. At the end of the promotional period any outstanding purchase balance in addition to new purchases after that date will attract the ongoing purchase rate for retail purchases, currently 20.74% p.a. Purchases, cash advances, balance transfers and special promotions made other than with this offer are charged at the applicable interest rates. Interest rates are variable and subject to change. The interest rates are current as at 29 April 2019. This offer is valid until 31 August 2019.

12. Offer applies to new approved Virgin Australia Velocity Flyer Card customers who apply by 31 August 2019. Earn 3 bonus Velocity Points on top of your standard earn rate for each eligible $1 spent per month in the first 3 months from card approval. Points earn capped at 10,000 per month for the first 3 months, after which time standard earn rates apply for remainder of the month. Standard earn rate applies after promotional period. This offer can't be used in conjunction with other Virgin Australia Velocity Flyer Card Point promotions or offers. To earn and redeem Velocity Points, you must be a Velocity Frequent Flyer member. Velocity membership and Points earn and redemption are subject to the member Terms and Conditions, available at velocityfrequentflyer.com, as amended from time to time.